I am joining the club! The...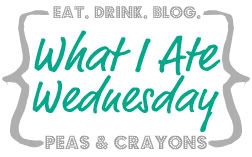 ...Club!
Today was a pretty average day routine wise but it was busy. I snack alot more when I have nothing to do... Also since I am on Weight Watchers, I will let you know all the weight watcher point values for everything!
For breakfast...round 10:30am (I slept in laaaate! but I looove me some breakfast.)
YUM YUM YUM! 2 large eggs (5 pts), 2 pieces of Weight Watchers white bread (2 pts), butter on the bread (approx. 2 tsp = 2 pts), 1 slice extra lean ham (3 pts), 2 tangerines (0 pts) and a tall glass of water! (also 0 pts) That is a very very typical breakfast for me. One of my favorite breakfasts actually!
Here it is cooking...I was bored so I took some photos...
The snow outside...
And my dad being WEIRD!
So that's (a delicious!) breakfast at a total of 12 pts.
I had class at 12:30pm and then a massage therapy apt. so I was home by around 3:30pm and starving! I ate this:
Homemade shepards pie of sorts (thanks Mom!) and a heap of homemade coleslaw. The coleslaw was 4pts and the pie I approximated at 10pts.
I also had some veggies (0 pts) and dip (5 pts). If you have been counting I'm up to 19 more pts! 31 pts total used. For my size/age I have a daily limit of 54 pts, plus an extra 49 pts to use spread out over the whole week. I can also gain exercise points.
I am hanging out now with a full belly. Ahhhh my belllaaaay. Food soooo good.
I am heading to my Weight Watchers meeting for 6pm, then getting MY HAIR CUT at 7 (SO EXCITED!) and finally am meeting with my bestie to see Breaking Dawn. I have 23 points left for my day and plan to consume them entirely in the form of Empire Theatre popcorn. Mmmmmmmmmm! The movies just aren't the same without it!
Hope you enjoyed a peak into my day and it's yummyness! (cuz it was GOOD)